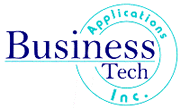 Innovative and Affordable Information Technology
Business Tech Applications, Inc. is a combination of an experienced, expert staff and mature proprietary business computer hardware and software products that have been known to the business world since 1975. We support many installations that have been depending on our products and services, continuously, for decades.
Commitment to our users and knowledge of the vertical market products that we support have set us apart from all competition.
Business Tech Applications, Inc. was founded to provide a stable corporate vehicle to continue development and support of existing products and develop new applications for evolving businesses and municipal institutions.
HOME ABOUT US PRODUCTS CONTACT PARTNERS
Copyright 2009 - 2018. Business Tech Applications, Inc. All rights reserved.