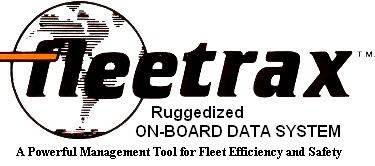 Monitor
Speed. Deceleration rate, indicates braking habits

Load weight/trailer weight

Refrigeration unit temperature

Fuel usage

Power Take-Off. Pumps, lifts etc

Location, with GPS accuracy

Meters and gauges

RPM

Odometer

Turbo boost pressure

Exhaust temperature

Coolant temperature

Turn signal lights

J1708 and J1939 Data Bus compatible with ECU equipped engines and vehicles

Compatible with virtually all types of data collection devices and communications. Bluetooth®, 802.11 a/b/g, RS-232, RS-485 compatible
5 Year Warranty!
Talks to the driver. "Please Slow Down"

Electronic DOT Driver Logs. NO PAPER LOGS! Less work load for the drivers. Accurate logs

Promotes safety awareness. Insurance discounts

Increases productivity

Reduces maintenance

Saves fuel

Improves DOT audits

Reduces management overhead

Generates timely reports

Interfaces with GPS and all communication networks

Flexible. Meets varying fleet specifications. Customer definable parameters and programmable options

Expandable. Keep pace with upgrade options, such as memory expansions, data entry devices & communications

Accident reconstruction mode provides details leading up to an incident. Similar to the airplane flight data recorder "Black Box"
In use by leading fleet operators since 1984

HOME ABOUT US PRODUCTS CONTACT PARTNERS

Copyright 2009 - 2018. Business Tech Applications, Inc. All rights reserved.