moniTEMP™
Business Tech Applications, Inc. has acquired exclusive rights to moniTEMP™, the leading temperature averager used in crude oil custody transfer, during the 1990's. moniTEMP™ has not be manufactured or supported since 2001. Business Tech Applications, Inc. has been contacted by moniTEMP™ users that have them in use today and require a source for support and new units. Business Tech Applications, Inc. is pleased to announce that a new PC board set has been designed and manufactured for the moniTEMP™, bringing it up to date with current technology and making it supportable. A limited number of new (old stock) parts are available and will be used to maintain older moniTEMP™ units. These will be made available on a first come, first served basis.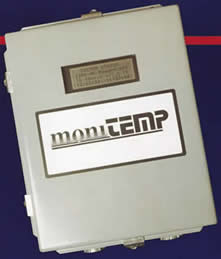 Features & Functions:
Built-in Uninterruptible Power Supply

Self calibrating ambient temperature circuit

Current and Average flow rate display

User programmable High and Low temperature alarm limits

User programmable High and Low flow rate alarm limits

User programmable Units of Measure:
Fahrenheit/Celsius
Barrels/Cubic Meters
Gallons/Hectoliters
Compatible with both Thermistor and RTD temperature probes
Reads temperature on Meter Pulse or user programmed Time Duration
4 Line by 20 character display with Backlighting
2 Channel operation. Expandable
Upgradeable to pressure monitoring and averaging
RS-232 Serial communication port. Bluetooth, 802.11 a/b/g, & more optional
Hard copy printer compatible
NEMA 4, 4X, 12 Steel cabinet included
Simple, 4 screw internal base for panel mount or explosion proof installation
One year limited warranty – additional two year fixed price exchange option
Nonvolatile memory
Watch Dog circuit for automatic restarts after extended power outages
HOME ABOUT US PRODUCTS CONTACT PARTNERS
Copyright 2009 - 2018. Business Tech Applications, Inc. All rights reserved.